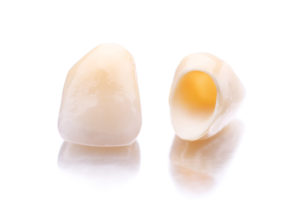 When you experience tooth decay, dental damage, or need a dental crown for any other reason, you'll want this restoration to last. Depending on the material used, tooth repaired, and your oral hygiene routine, a dental crown can last five to ten years before it needs to be repaired or replaced. Many patients want their smile to look great after repair with dental crowns, but they've heard that porcelain crowns that look the most natural are the least durable. Luckily, today's dental-grade porcelain crowns are durable and long lasting. They offer the same five to ten-year restoration available with other, less cosmetic materials like gold, porcelain fused to metal, or even zirconia. With proper care, your all-ceramic dental crown will last and maintain a flawless, natural appearance.

Tips to Make Your Dental Crown Last
If you want to make your dental crown last, there are some steps you can take, including:
Brush teeth for at least two minutes at a time at least twice a day
Brush with a soft or ultra soft toothbrush and minimally abrasive toothpaste
Floss teeth at least once each day
Use waxed floss or water flossers to avoid pulling around the edges of the dental crown
Wear sportsguards to protect teeth during athletic events
Use mouthguards during sleep to avoid damage from teeth grinding and clenching
Avoid using your teeth as tools to open packages or crack nuts
Don't chew on ice, fingernails, or other hard objects
Keep up with Your Dental Appointments
Visiting the dentist every six months is essential to keeping your smile healthy and keeping your dental crown in place. During your six month dental checkups and teeth cleanings, we'll examine your restorations. In many cases, these examinations allow us to prevent your dental crown from being damaged and extend the life your restoration. We can also provide recommendations to improve your at-home care routine to avoid unnecessary wear and tear to your dental crown.
Meet Dr. Cocco
Skilled Ann Arbor dentist, Dina H. Cocco, DDS, is happy to provide a wide range of restorative dentistry solutions, including crowns crafted from a variety of materials. If you want to learn more about dental crowns or any of our other treatment options, call to schedule a treatment consultation in our state-of-the-art Ann Arbor dentistry office. We'll evaluate your smile, review your treatment options, and help you find a restoration solution that will look and feel great for years to come.