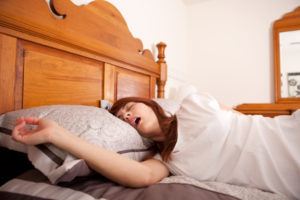 Patients suffering from temporomandibular joint (TMJ) dysfunction are probably familiar with many of the adverse oral and whole body health effects of this disorder, including jaw pain, difficulty opening and closing the mouth, and a clicking or grinding sound during jaw movement. One common side effect of TMJ dysfunction that many patients are less familiar with is sleep deprivation. This can happen for a number of reasons. Some patients are just in too much pain to sleep comfortably and others can experience increased instances of sleep apnea. If you've been diagnosed with TMJ dysfunction or you're concerned you may be suffering from this disorder, let your dentist know, and make sure you mention that you've been struggling with excessive exhaustion.

TMJ Dysfunction
TMJ dysfunction can be caused by a number of factors, but an improperly aligned bite is one of the most common reasons patients struggle with TMJ disorder. The misaligned bite places excess strain on the jaw joints and can cause patients to shift their bite unconsciously searching for a comfortable resting position. This is especially true during sleep. The unconscious grinding and clenching called bruxism can damage teeth, cause significant discomfort, and make it difficult for patients to sleep soundly through the night. Even worse, the constantly shifting jaw may cause airway obstruction that contributes to sleep apnea, the cessation of breathing for ten or more seconds during sleep. To ensure a restful and rejuvenating night's sleep, patients need to seek treatment for TMJ dysfunction.
Treatment for TMJ Dysfunction
TMJ therapy can be as simple as wearing a custom crafted nightguard to keep the jaw in its ideal resting position during sleep. More complex treatments include orthodontic realignment using braces and oral appliances, jaw surgery, physical therapy, stress relief, and more. The first step of the treatment process is partnering with patients to determine the underlying causes of their TMJ dysfunction. Once we are able to determine the underlying causes of your TMJ dysfunction and create a personalized treatment plan to renew healthy, pain free function.
Meet Dr. Cocco
Skilled Ann Arbor dentist, Dina H. Cocco, DDS, has years of experience working with patients who are struggling with TMJ dysfunction and bruxism as well as numerous other oral and overall health issues to achieve and maintain their optimal level of health. Dr. Cocco and her team are here to help you with customized TMJ therapy plans as well as personalized oral health care solutions. Whenever you're ready to relieve jaw pain, achieve full smile function, and partner with us to maintain your oral health, call our team to schedule a dental appointment today. We look forward to seeing you soon.