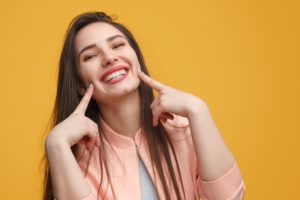 Confidence is an invaluable asset. It can give you the courage you need to ask your crush out on a date, go after that well-deserved promotion, and make a great first impression wherever you go. But what if your confidence is a little lacking? Your cosmetic dentist in Ann Arbor may be able to help! A beautiful, healthy smile can make you feel good from the inside out.
The Power of a Beautiful Smile
Did you know that humans naturally tend to imitate the facial expressions of those around them? This form of mimicry helps us to be empathetic toward others, but it can also empower us to change our environment. For example, if you smile, and the people around you smile, you may be able to ease a tense situation and bring a bit of sunshine into the lives of others. A beautiful set of teeth that motivates you to smile generously can help you become a beacon of positivity!
Your Teeth Affect the Way Others Perceive You
If your teeth are straight, white, and well-kept, that can have a big impression on the way others perceive you. For example, because your mouth is an indicator of your overall health, beautiful teeth can convey the impression that you take good care of yourself. Attractive pearly whites can also detract attention from those fine lines around your eyes and other signs of aging — in effect, they can turn back the clock and help you recapture your youthful glow!
Here are a few statistics that underscore how a smile can affect how others think about you:
People with straight teeth are seen as 45 percent more likely to get a job than people who have a similar skillset along with crooked teeth.
On one dating website, people with a nice smile are 57 percent more likely to get a date based on their picture alone.
People with nice teeth are viewed as 38 percent more likely to be smart than those with unattractive teeth.
Help Your Smile Reach Its Full Potential
Clearly, a nice smile can do wonders for your confidence, but how can you achieve the stunning set of pearly whites that you've always wanted? Something as simple as a professional whitening treatment, which can remove years' worth of unsightly stains, may be all you need to feel like the star of the show. If you have severe aesthetic problems in your smile, such as crooked teeth, gaps, or other issues, you may need more extensive treatment. Your cosmetic dentist will be happy to consult with you and create a plan to help you become the owner of a set of teeth that is as gorgeous as your personality.
About the Author
Dr. Dina Cocco is an experienced general and cosmetic dentist in Ann Arbor who derives great satisfaction from helping her patients love what they see in the mirror. She approaches each case with empathy and personalized care. To discover how she may be able to transform your smile, contact our office at 734-668-8636.