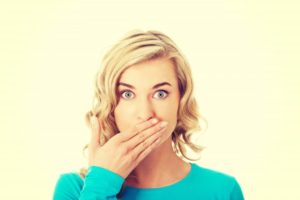 A healthy set of gums should be pink and tight, ensuring that they hold teeth in your jaw reliably and don't expose the vulnerable root portions of your teeth. If your gums are bleeding, then it's a sign that something is wrong. While there are many causes for bleeding gums, it's always something you want to address regardless of the exact issue.
If you aren't sure why gums bleed, learning the basics on oral health will keep you better informed as you improve your habits or seek treatment from a dentist.
Why Do Gums Bleed?
The underlying cause of your bleeding gums will largely vary from person to person, however the most likely cause is insufficient oral care. As plaque builds up on the gums, bacteria inside that plaque continuously releases acids which attack the tissue. As this breakdown occurs, it causes the gums to become inflamed and allows gingivitis to develop. This is considered the earliest form of gum disease and the most common. Improved brushing and flossing as well as a professional cleaning is typically enough to reverse this condition.
While gingivitis is common, it is far from the only possible diagnostic for bleeding gums. Other common causes include:
Brushing too hard or for too long
Using a hard-bristled toothbrush (you should always opt for the softer varieties)
A brand-new flossing routine that your gums aren't used to
Blood thinners (or other medications)
An influx of hormones (common during pregnancy)
Ill-fitting dentures
Do You Have Gum Disease?
The signs of gum disease are not always easy to catch. By the time you start to notice them, the condition has already begun damaging your oral structures. Thankfully, there's still time to get treatment if you start to notice any of the following. They include:
Red or dark purple gums (any color that isn't light pink)
Tender, sensitive, puffy or swollen gums
Receding gums or teeth that appear longer than usual
Pain while chewing or biting
Increase sensitivity especially to hot and cold stimuli
While bleeding gums is exclusively caused by gum disease, it is the first condition to consider. By visiting a dentist for more thorough examination, they can give you a more accurate diagnosis and offer the most effective treatment plan from there.
How Oral Care Makes a Difference
The good news is gum disease is largely preventable with daily brushing and flossing at home. By committing to this habit and visiting the dentist every six months for cleanings and checkups, you can prevent gum disease and catch the early signs before it has a chance to cause permanent damage. For those who are more sensitive to gum disease, an antibacterial mouthwash may also be appropriate.
Neither gum disease nor bleeding gums have to be a fact of life. Seek treatment from a dentist today and get your oral health back on track!
About the Author
Dr. Dina H. Cocco earned her DDS degree from the University of Michigan. For decades, Dr. Cocco has been providing the community restorative treatments like periodontal therapy to aid gum disease and reverse its symptoms. To learn more about her practice or preventive treatments, you can contact her through her website.