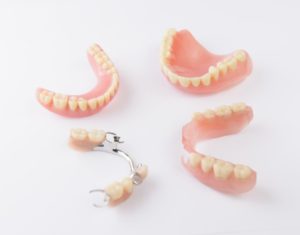 When a denture fits properly, it can make a big difference in your daily activities. Smiling and eating food becomes easier as dentures improve your quality of life and help you maintain a more balanced diet. But dentures that don't fit properly have many negative implications to consider. If you want to avoid oral complications later in life, it's always better to get your denture adjusted regularly, rather than wait for irreversible problems to appear.
In today's blog post, we go over just a handful of the complications that can appear, the average lifespan of your denture and how a dentist can help you make it fit properly.
Common Health Problems with Ill-Fitting Dentures
While there are many issues that can occur as a result of ill-fitting dentures, the most common issue is an unhealthy diet. If your denture doesn't fit properly, then it can make eating or chewing many foods a painful experience. As a result, you're more likely to eat unhealthy foods that are easier to chew instead of foods that actually give you a balanced diet. Foods like nuts, meats, vegetables and seeds are almost impossible to eat with an ill-fitting denture, leading to malnutrition, weight loss or an eating disorder.
Furthermore, multiple parts of the mouth can become irritated, worn-out or even deteriorated due to an ill-fitting denture. Some of the most common long-term issues include:
Mild to severe inflammation caused by chafing, which can also lead to an infection.
Uneven bites, which put additional stress on the jaw joints and increase the risk of jaw pain and chronic headaches.
Atrophy of the jaw bone, leading to permanent bone loss and resorption.
How Long Do Dentures Last?
It's important to note that dentures are not meant to last a lifetime of use. In fact, most dentures are only meant to last on average about 10 years before they need repairing or replacing. In many cases, a relining is needed every few years to ensure a proper fit. Their lifespan can also vary depending on how well you care for your denture, but your mouth is always going to be changing shape when teeth are missing. This is the main reason why dentures require routine maintenance and replacement.
How a Dentist Can Help
By visiting the dentist and having your mouth and denture examined, you can confirm exactly why your denture is not fitting properly and get it fixed. They'll evaluate your bite as well as the condition of your denture and determine if either a simple reline or a full-blown replacement is needed. You'll also be given helpful tips on making your denture last as long as possible and which products you should use to keep them clean.
A denture can be extremely helpful in your daily life or it can be difficult and cumbersome. To make sure the former is the case, schedule an appointment with a dentist so they can evaluate your denture today!
About the Author
Dina H. Cocco works hard to provide patients dentures that are lifelike and comfortable for many years to come. Her and her team makes sure that your bite is even and that your denture feels stable after fabrication, whether you're eating, speaking or performing another task. To learn more about her practice, you can contact her through her website.