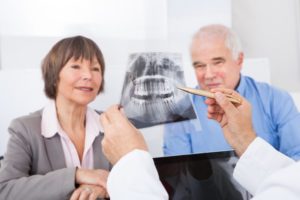 Having multiple missing teeth can make it difficult to smile, even when you're surrounded by friends and family. But your appearance is far from the only trait to suffer as a result of tooth loss. Your ability to chew foods and even maintain a strong jaw are both greatly diminished once teeth are extracted. For these reasons and more, dentists always recommend patients to get their smile restored, whether it's through dentures or dental implants.
Preventing Teeth from Shifting
Whether you plan on receiving oral surgery or not, replacing missing teeth works to prevent your neighboring teeth from shifting into the empty space. It won't be noticeable at first, but teeth begin shifting inside your jaw the moment teeth are lost. This is the body's natural response to compensate for the extra space.
What can happen as a result of this movement? For one, teeth that shift are far more likely to make your bite uneven. Uneven bites increase the risk of enamel erosion as neighboring teeth grind up against each other. It also puts additional stress on your temporomandibular joint, increasing your risk for jaw pain and chronic headaches.
With the help of dentures, dental bridges or dental implants, you can fill the space left over from your missing teeth and prevent realignment from occurring.
Keeping a Balanced Diet
Another typically overlooked issue with missing teeth is your reduced ability to eat the foods you want. People with missing teeth are far more likely to resort to eating unhealthy foods that are easier to eat because they can't obtain proper sustenance from food that is tougher to eat. Fruits, vegetables, nuts and proteins are essentially off the table (both literally and for your diet) when you have extensive tooth loss.
While differences exist between your tooth replacement options, it's always better to have restorations than none at all.
The Differences Between Dentures and Dental Implants
Once teeth are extracted, the alveolar bone holding them in place begins to diminish. This is because the tooth's root is no longer stimulating the jaw, affecting it's overall strength. Currently, only one tooth replacement option solves the issue of jawbone deterioration and bone resorption, and that's dental implants.
While dentures can work to improve your diet, appearance, speaking ability and prevent teeth from shifting, they do not address the underlying causes of bone resorption and jawbone deterioration. Because dental implants act as a prosthetic root, your jaw is constantly being stimulated, which prevents the bone tissue from atrophying or breaking down.
With that said, you won't know which option is best for you until you schedule a visit with a dentist! It's always better to replace missing teeth; call a dentist today to schedule a consultation!
About the Author
Dr. Dina H. Cocco earned her dental degree from the University of Michigan. Her office is capable of restoring your smile with dental bridges, dentures and dental implants, opening the door to a wider diet and more confident smiles. To learn more about her expertise, you can contact her through her website.