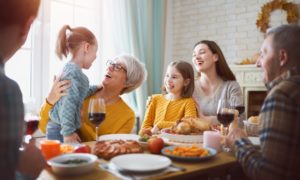 If you talk to our own Dr. Dina Cocco, she'll tell you that her favorite part about being a dentist in Ann Arbor isn't the teeth, but the people! For her, nothing is more fulfilling than taking care of someone and giving them better health and a more confident appearance in the process. She loves looking after the community, so you can imagine how upset she was when she discovered that up to 42% of hungry families in Washtenaw County didn't qualify for federal food assistance in 2017, and that number is only expected to get bigger thanks to recent policy changes. Dr. Cocco and our team saw this as an opportunity to help out this holiday season, and you can as well! Read on below to learn how.
Why Washtenaw Families Are Going Hungry
Due to Washtenaw County's relatively high cost of living compared to the rest of the nation, many food-insecure families (as in those who can't regularly afford enough food to feed themselves and dependent family members) don't technically qualify for federal food assistance. And, this problem is only expected to get worse, as the U.S. Department of Agriculture is proposing a policy change that would undo automatic enrollment in these programs and exclude people who earn more than 130% above the national poverty line. Researchers estimate that these changes would cause an estimated 3 million people (about 150,000 in Michigan alone) to lose their food benefits.
How You Can Help
Our practice is currently accepting donations of nonperishable foods for local families. All of the donated food is being given to organizations like Food Gatherers and the Hope Clinic so it can be distributed to the families who need it the most. Dr. Cocco and our team strive to give back to the community year round, but we're more than happy to double our efforts this holiday season.
If you would like to donate food to hungry families in Washtenaw County, please bring boxed, canned, and other nonperishable foods to our practice, and we'll take care of the rest! As a community, it's up to us to help our friends and neighbors when they are down, and we hope this food drive provides a little warmth for families who might be struggling this holiday season. You can learn more about how to donate by visiting our Facebook page.
Thank You!
Just by reading this blog, you've become aware of the hunger problem in Washtenaw County, which is the first essential step in figuring out a solution. If you have any questions about which types of foods are best to donate, be sure to give us a call. Let's all help out so everyone can enjoy a happy and healthy holiday season!