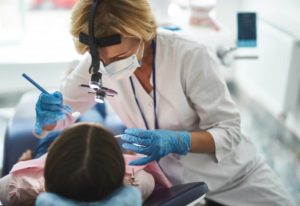 Michigan Governor Gretchen Whitmer released a new emergency executive order at the end of March declaring a state of emergency, after two patients tested positive for COVID-19. In it, it states that no business that requires its employees to leave their home will operate, as long as they're not considered "critical infrastructure workers". Read on to learn what services and businesses are still open, and whether you can visit your dentist for emergency care if you have an accident while self-isolating.
The New Government Order
On Monday, March 23, Governor Whitmer issued a shelter-in-place order for all of Michigan and declared a state of emergency. In it, she is asking all "non-essential" businesses to shut their doors temporarily in an effort to stop the spread of COVID-19 and prevent hospitals from overflowing with critical patients. Her order is currently set to last at least three weeks; however, it is expected to become extended.
The new government order is a response to the skyrocketing COVID-19 infection rates across the state. In only two weeks, hospitals went from caring for zero infected patients to over 1,000. The governor stated that the most effective way to slow down the spread of the virus is to stay home and prevent coming into contact with others.
Businesses Impacted By COVID-19
Countless businesses are being impacted by the new state-of-emergency order in Michigan, since it only mandates that "critical infrastructure workers" remain open during these unsure times. These services include healthcare, law enforcement, first responders, food and agriculture, energy, waste, transportation, public works, and a variety of other job titles. There are also a variety of exceptions that have been highlighted by the CDC, including grocery stores, pharmacies, other retail stores, and more.
Precautions Your Emergency Dentist is Taking To Keep You Safe
Just because you're self-isolating doesn't mean that you're completely safe from any accidents occurring. Even though your dentist is postponing all elective treatments, preventive care, and cosmetic procedures, they're still open in case you experience an emergency. They're taking a variety of precautionary measures outlined by the CDC to keep both you as well as their staff safe, including:
Regularly disinfecting all surfaces and tools
Wearing personal protective equipment
Screening patients over the telephone before they come in
Depending on your needs and whether you're exhibiting symptoms of COVID-19, your emergency dentist will work with a medical care provider to ensure that you go to the facilities that are best-equipped to treat you. If you're not ill or experiencing any symptoms, they'll work quickly and efficiently to fix your issue while keeping you out of the emergency room. That way, ERs aren't burdened with dental emergency cases on top of everything else going on.
About the Author
Dr. Dina Cocco has decades of experience and is incredibly passionate about helping ease her patients' pain and worries by providing them with the highest quality of emergency care. She is an active member of several professional organizations and stay up-to-date with the latest advancements in her field. For questions or to schedule an emergency dental appointment during the state of emergency, visit her website or call 734-668-8636.