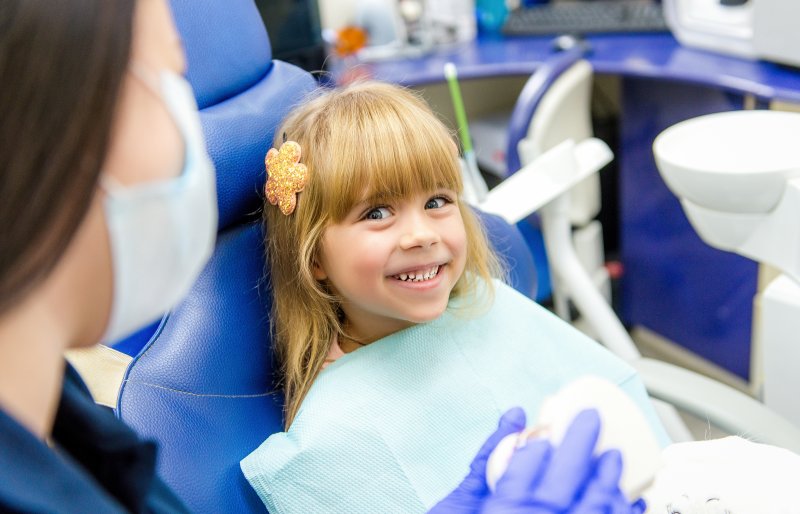 As your child grows, their smile changes. From only needing a damp washcloth to wipe their gums to watching them brush with the help of their favorite song, it takes patience and consistency to ensure their smiles remain healthy and strong. February is National Children's Dental Health Month, which means dentists throughout the country are raising awareness about the importance of good oral hygiene from an early age. If you want to learn more about what you can do to keep your child's smile looking and feeling its best year-round, check out these helpful tips.
Start Flossing Early
Flossing requires a technique that can be difficult even for adults. Fortunately, various companies are now offering alternative solutions that are effective and make it easier for little ones with minimal dexterity when it comes to oral hygiene. Whether you choose a water irrigator (i.e., Waterpik) that removes up to 99% of plaque, especially in those hard-to-reach areas of the mouth, or a product known as GumChucks, which are "C" shaped flossers that make the process easier, you can be sure your child's teeth and gums will be free of bacteria that can lead to cavities and gum disease. Of course, you can always talk to a children's dentist about the proper technique to using traditional dental floss if you prefer.
Make the Switch from a Manual to an Electric Toothbrush
If you have an older child or teenager, you might want to consider switching from a manual toothbrush to an electric one. Not only do these devices have a timer to ensure they are brushing a full two minutes but many now come with a way to connect to a smartphone. You can even see areas of the mouth that were missed while brushing, so you can help your child better hone their technique and thoroughly clean their teeth.
Offering Your Child Xylitol Mints and Gum
Depending on the age of your child, you may find offering them mints and gums that contain xylitol a beneficial treat. Not only will they have fresher breath, but these sweet treats are designed to taste good without the added sugar. Chewing sugar-free gum can help remove any stubborn food particles attempting to stick to the surfaces of their teeth, ensuring they maintain good oral health each day.
Make It a Family Affair
There are products available on the market that can engage your child by encouraging them to "Do-As-I-Do" when it comes to brushing. But if you want to take a more active approach, why not turn brushing and flossing into a family affair? While you observe your child cleaning their teeth, you can take care of your own in the same bathroom! When they see you taking a proactive approach to maintaining good oral hygiene, they'll want to do the same, making it a win-win situation for everyone!
By incorporating these helpful tips into your child's morning and nighttime routine, you'll notice a dramatic difference in the health and longevity of their smile.
About the Author
Dr. Dina H. Cocco earned her bachelor's degree at Central Michigan University before completing her dental degree at the University of Michigan in 1989. Providing the latest in dental care since 1990, she is committed to participating in continuing education courses and sharing her knowledge and expertise to ensure her patients receive the very best. From children to adults, Dr. Cocco offers valuable treatments to keep decay and disease away as well as provide insightful tips on ways to improve oral health at home. For questions about our services, visit our website or call (734) 668-8636.