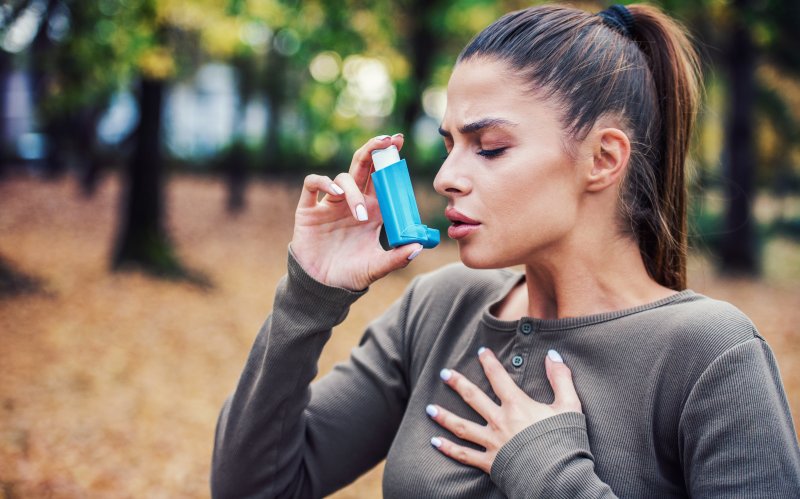 Asthma is a remarkably common oral health problem with roughly 252 million people around the world dealing with it on a day-to-day basis. If you have asthma, you've probably become pretty adept at managing it. However, you may not necessarily be aware of the way that the condition can affect your oral health. As it turns out, there are some oral health conditions that you may be at much greater risk for. Here's how asthma can affect your teeth and gums.
How can Asthma Affect My Oral Health?
According to one study published in the Journal of Periodontology, asthma patients are around 20% more likely to contract gum disease than someone without the condition. That's concerning because gum disease is already one of the most common oral health conditions that there is, with around 50% of adults in the U.S. having it to some extent.
Why Does Asthma Increase My Risk for Gum Disease?
It may sound strange, but the answer has to do with saliva. Your mouth uses your saliva to clean itself naturally, breaking down and washing away food that would otherwise just feed bacteria. Without saliva, that bacteria can infiltrate the gum line, which increases the chance of contracting gum disease.
Asthmatics tend to deal with their condition by breathing through their mouth, which can dry it out. Asthma inhalers also repress the salivary glands, hindering saliva production.
How Do Asthmatics Prevent Gum Disease?
If you have asthma, there are a few steps you can take to reduce your chances of gum disease. For one, some inhalers are sweetened with sugar to make them easier to use; you should try and use an inhaler that doesn't damage your teeth to the same extent.
Staying hydrated is also a good way to prevent dry mouth and therefore facilitate good oral health. Finally, instead of relying on saliva, you can manually clean your mouth more often. Try brushing your teeth after using your inhaler, or when you find yourself breathing through your mouth.
About the Author
Dr. Dina Cocco is a dentist that has your best interest at heart. She loves nothing more than being able to guide patients of all ages toward oral health that they can be proud of. Dr. Cocco completed dental school at the University of Michigan, and he has been practicing in his field ever since. She's also a proud member of several dental associations, including the Michigan Dental Association and the Academy of General Dentistry.
If you have any questions about asthma, she can be reached at her website or by phone at (734) 668-8636.