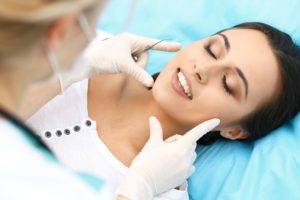 If you're unhappy with the way your teeth look, you're not alone. Stained, discolored, or gapped teeth are a source of embarrassment for many people, but you can have the smile of your dreams with cosmetic dentistry. However, you can't just visit your dentist's office and expect to walk out with perfect teeth. Instead, your dentist will need to check your mouth for any untreated dental concerns, like cavities or gum disease. Although your priority might be the appearance of your teeth, your dentist will initially be more concerned about their health, and here's why.
Why is Dental Health Important?
Most people can benefit from cosmetic dentistry, but one important factor will determine your candidacy for elective services–your dental health. You must have healthy teeth and gums because certain cosmetic treatments can aggravate or worsen dental issues. Although your smile might look better, a dental emergency is sure to follow. You'll have an increased risk of a painful, costly situation down the road that can cause your new smile to fail.
Cosmetic dentistry is a big investment. Ignoring dental problems isn't a risk your dentist is willing to take. They'll examine your mouth to look for anything concerning. Based on their findings, you may need a little prep work, like a dental cleaning, filling, or gum disease therapy. While you may have a few more steps in your treatment plan, it's time well spent to ensure your investment thrives.
Achieve a Picture-Perfect Smile
After ensuring your teeth and gums are healthy, your dentist will learn more about your concerns and goals to determine which cosmetic treatments are right for you, which may include:
Porcelain Veneers: A veneer is a thin shell bonded to the front side of a tooth to improve its color, size, and shape. When placed on the teeth visible when smiling, they cover many imperfections using one procedure, including discoloration, gaps, and chips.
Composite Bonding: A composite resin provides a quick fix for minor imperfections, like exposed roots, chips, or dark stains. The resin is shaded to match the color of the enamel to blend in with the tooth for natural-looking results.
Teeth Whitening: A powerful whitening agent can get your teeth up to 8 shades whiter when used on age-related or surface stains. You can enjoy drastic results that can last for several months or years, depending on your aftercare routine.
Your dentist will help you make the best decision to love the smile you see in the mirror. Take your first step toward the attractive smile you desire. Contact your dentist to schedule a cleaning and checkup to ensure your mouth is healthy.
About Dr. Dina H. Cocco
Dr. Cocco achieved her dental degree from the University of Michigan and regularly continues her education in advanced services, like cosmetic dentistry. She is a proud member of various professional organizations, including the American Dental Association and the Michigan Dental Association. Contact our office today to request your consultation.