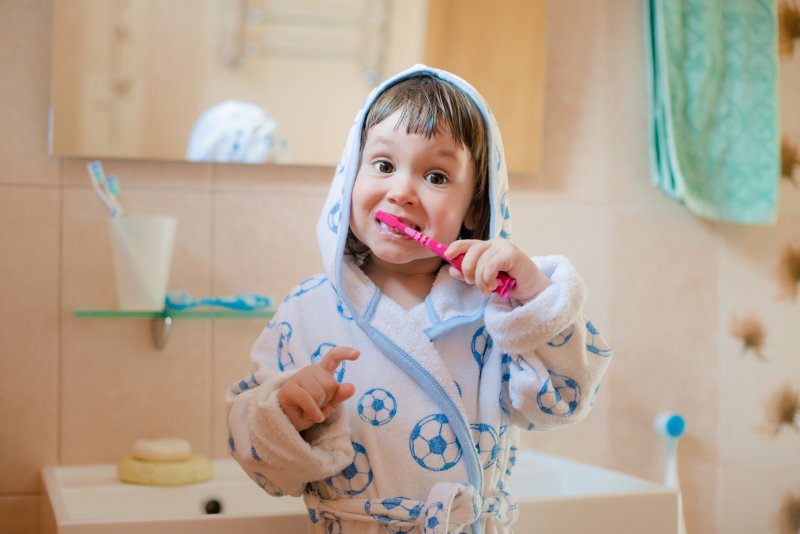 If you're looking to keep your child's smile looking and feeling great year-round, you want to make sure that you're using the right products. Since February is National Children's Dental Health Month, a local dentist is here to share three helpful items you can use to ensure cavity-free teeth as well as tips that are designed to encourage better oral hygiene at this stage in your child's life.
Which Oral Hygiene Products Are Best for Children?
Every child is different, so while one might work for another, it may not be the most beneficial for your little one. Fortunately, there are numerous products available on the market that are designed to improve and encourage healthier teeth and gums in kids.
To help you narrow down your selection when shopping, a dentist shares three unique products you can use:
Water Flosser (Oral Irrigator): If your child struggles to clean in between their teeth with traditional dental floss, you can invest in a water flosser. Also known as oral irrigators, these are easier to use, especially for kids who have braces. These devices push water out through a small tube, forcing cavity-causing food particles and bad oral bacteria out of the mouth.
Electric Toothbrush: While not all children will want to use an electric toothbrush, these can be a great option if your child is ready to make the switch. Taking the work out of brushing, these devices make it easier to remove plaque accumulations as opposed to manual brushes. Also, some toothbrushes come with apps that you can connect to your phone, allowing you and your child to see where they missed while brushing.
Xylitol: This might seem a bit odd as a tool you can use to help your child achieve better oral health, but the truth is that by allowing them to chew sugar-free gum, it stimulates saliva production and keeps harmful food particles from adhering to teeth. You should only offer this option if your child is old enough to chew gum properly.
Which Tips Can Help a Child Maintain a Healthy Smile?
Apart from the products you can purchase to keep teeth and gums free of decay, cavities, and infection, there are a few helpful tips that are also beneficial when it comes to young smiles. As they grow, it is important that their smiles remain healthy at each new stage of life. To assist in this effort, you can:
Make sure they see their dentist every six months for a dental checkup and cleaning
Help them maintain a morning and nighttime oral hygiene routine of brushing, flossing, and rinsing
Ensure that they eat healthy, nutrient-rich foods while limiting their consumption of sugars and starches
Have them wear a mouthguard when playing sports or if they grind their teeth at night
Proper oral hygiene for kids can be fun and exciting, so make sure you're listening to your child's dentist so that you're using the right products for a healthier smile.
About the Author
Dr. Dina H. Cocco earned her bachelor's degree at Central Michigan University before completing her dental degree at the University of Michigan in 1989. Providing the latest in dental care since 1990, she is committed to participating in continuing education courses and sharing her knowledge and expertise to ensure her patients receive the very best. From children to adults, Dr. Cocco offers valuable treatments to keep decay and disease away as well as provides insightful tips on ways to improve oral health at home. For questions about our services, visit our website or call (734) 668-8636.