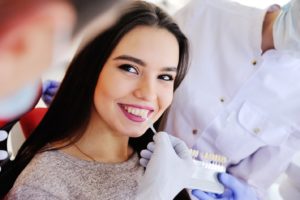 Veneers are one of the hottest cosmetic treatment options around, and several patients these days are turning toward this awesome solution to achieve the bright smile they've always dreamed of. However, there is no perfect substitute for your natural teeth, and despite their effectiveness, veneers can still fall off without any apparent warning. But when this happens, there's no reason to panic—your dentist can help! Keep reading to learn more about why veneers sometimes fall off and how you should go about handling the situation.
5 Possible Explanations for a Veneer Falling Off
Veneers are designed to last for 10 or so years with proper care, but sadly, they can sometimes fail early. This can occur for a variety of reasons, but here are five common explanations:
Old age and wear – If you've had your veneers for a while, the daily forces of biting and chewing might've taken their toll and weakened them to the point of looseness.
Insufficient bonding – If the veneer in question was relatively new before it fell out, it might not have been properly bonded; fortunately, your dentist can easily address this issue.
Tooth decay – A tooth that's been ravaged by decay often can't fully support a veneer.
Trauma – Sometimes getting hit in the mouth is all it takes to dislodge and/or break one of your veneers; if this happens, be sure to collect all of the pieces you can find.
Negligence – Not brushing your teeth or partaking in bad oral habits can lead to your veneers and natural teeth alike sustaining damage.
How To Address Veneers That Have Fallen Off
Knowing why your veneer has fallen off can help to inform your dentist about how to approach the problem; however, it doesn't mean that you should try to replace it yourself. Given that your dentist is the one who bonded the veneer in the first place, they're the best option for remedying the issue! That said, here are a few simple steps to follow if you've experienced a displaced veneer:
Collect the pieces of the veneer(s) in a hard, clean container. If it's mostly in one piece, your dentist may be able to simply reattach it.
Call your dentist; teeth that have been treated with veneers always need to be covered for their protection, so seeing your dentist right away is imperative.
Keep calm and use caution when eating and drinking, and if necessary, you can use a temporary solution like dental wax to cover the surface of the exposed tooth.
At your appointment, your dentist will determine the root of the problem before deciding the best course of action. Underlying issues like decay beneath the veneer or bruxism need to be cleared up before the veneer can be replaced. Chipped or cracked veneers can sometimes be repaired with a composite resin, but in most cases, the veneer must be wholly replaced.
Veneers are meant to be a dazzling upgrade to your smile that noticeably boosts your livelihood—but this cannot happen if they fall out! Regardless of the cause, having it replaced will ensure that your pearly whites look and feel their absolute best for the foreseeable future.
About the Author
Dr. Dina H. Cocco received her DDS from the University of Michigan and is a proud member of several notable professional organizations including the American Dental Association, the Michigan Dental Association, and the renowned Academy of General Dentistry. Her practice in Ann Arbor offers a wide range of services including cosmetic options like veneers. If you have any questions about the article or have a veneer that's fallen off, don't hesitate to contact the practice today to get your smile the help it needs. Telephone: (734) 668-8636.